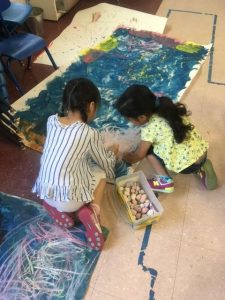 Welcome to Art for the Young, a 10-class series by The Art League of Long Island at the Mid Island Y JCC. Designed for Pre-k students, ages 3-5, and Grades K-3, these classes will allow children to experience art making in a hands-on environment that stimulates creativity and independence. Young artists develop a higher level of critical thinking and problem-solving skills through learning about elements of art making and contemporary art. Diverse projects emphasize basic art-making skills and help to build fine motor development.
The classes are all about exploration and discovery, where curiosity is treasured and kids are encouraged to feel, touch and learn through sensory activities. Projects explore drawing, painting, collage, materials found in nature, sculpture, and mixed media. Students have creative freedom within each project to develop artworks that embrace their personal interests.
Pre-K Sessions:  April 3, 2023  – June 5, 2023 – 3:15pm-4:00pm
K-3 Sessions:  April 3, 2023  – June 5, 2023 – 4:15pm-5:15pm
Instructor:  Linda Gottlieb
Classes takes place at the Mid Island Y JCC located at:
45 Manetto Hill Rd, Plainview, NY 11803
Parents/Guardians must fill out the authorization form to designate who else is permitted to pick up your child at the conclusion of a session.  Click here for the fillable form and return it prior to December 23, 2022.
Special Notes
No class 1/16 in observance of MLK Day
No class 2/20 in observance of Presidents Day
Required Supplies
All materials are included in this class. Please dress for an artful experience.