Summer 2023 Pre-College Portfolio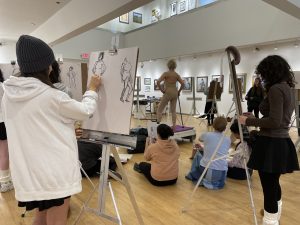 TWO WEEK SESSIONS 2023 SCHEDULE:
TUESDAYS through FRIDAYS / 10:00am – 3:00pm
Choose One or Both Sessions
*Early Bird Special!*
January 1st-February 1st 2023 non-members of the Art League can register with $100 off each program session. Registrations with early bird discounts taken by phone only. Call the Art League at 631-462-5400 x 222 to register!
Instructor:  Stephanie Folk
Elevate your work and develop your portfolio for college! The Art League offers an intensive 2-week program for high school students to fully immerse themselves in the creative process and build their portfolios for college. Students will experience professional studio practices in observational and figure drawing, painting, mixed media projects, and more.  Subjects will include the drawing from the live model, portraiture, still life, and abstraction.
Teens who are serious about pursuing art in college need a comprehensive portfolio. This program will guide teens in developing a well-rounded portfolio for applying to competitive art programs. Get feedback on your existing portfolio and develop your own voice as you explore new materials
Sessions take place in the Art League's Jeanie Tengelsen Gallery. Student Gallery Exhibition with a closing reception will take place Saturday, August 5 from 1pm to 3pm.