The Art League of Long Island in Dix Hills, NY is now offering the opportunity to rent the gallery for your next event in its world class facilities!
The facilities of the Art League of Long Island represent an extraordinary opportunity for businesses interested in hosting their next networking event, next recital or concert, pop-up, or fashion show in one of Long Island's most iconic art facilities.
Join us and become a part of the most enviable art center of its kind on Long Island!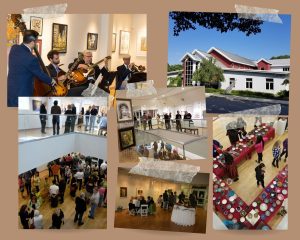 • A Beautiful Space
The Art League's gorgeous, bi-level atrium style gallery offers so many opportunities. Put on an artistic production in the most beautiful gallery on Long Island!
• A Recognized Brand
The Art League is an iconic home to Long Island's creative class. Artists, photographers, designers, dreamers, and doers have infused this amazing building with energy,
innovation, and excitement for decades. The art facilities and spacious studios are second to none on Long Island!
• A Strategic Location
Ideally located in central Long Island the Art League has easy access to exit 42 on the Northern State parkway. There's also plenty of lighted, secure parking with surveillance cameras creating a safe environment for visitors.
Call us at 631-462-5400 x222