Congratulation to the Art League of Long Island Resident Artist Members, Class of 2022-2023!
Through a competitive application process, three Long Island artists have been selected to become the third group of Resident Artist Members at the Art League of Long Island. Established in 2018, the Resident Artist Membership program is designed to provide a select group of Long Island based artists with skill-building and community-based opportunities to further develop their careers in the visual arts.  The program, which had been on hiatus due to the pandemic, has returned with the 2022-23 class of residents working on a host of new projects and cultural programs.
The program, spearheaded by Meagan Moore, the Art League of Long Island's Assistant Director of Arts Education and Programs, offers resident artists over the course of one year 150 hours of free class time, open studio time, an exhibition opportunity, collaborative projects and teaching opportunities. The resident artists will be hosting their own carefully designed workshops and cultural programs during their residency. Through these activities and other collaborative projects, these artists will engage with and become leaders in the community of one of the region's leading visual arts centers. The membership runs September 1, 2022 through August 31, 2023.  The following artists have been selected to participate in the residency: Margaret Minardi, Chris O'Donnell, and Despina Zografos.
The Art League thanks Walmart of Commack for sponsoring Resident Artist Member projects in the coming year!
About the Resident Artist Members: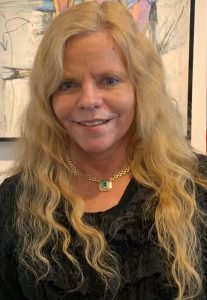 Margaret Minardi of Northport is a veteran art educator returning to the art world as an exhibiting artist.  She lived much of her early years in Port of Spain Trinidad where without television or radio she was able to foster a vivid imagination. A graduate of Cold Spring Harbor High School, she received classical, atelier training at the Huntington School of Fine Arts. She graduated from SUNY Purchase at the top of her conservatory, majoring in painting and minoring in lithography. She went on to earn her Master's in Education from Dowling College.  The remainder of her art education has been predominantly self-taught.   As a 30-year high school art educator, Minardi has found profound gratification in passing on what she teaches herself to her students. They help to keep her stimulated and excited about art and on top of the latest technology and mediums. Most of the past 30 years have been spent promoting her students work. Over that time a thousand works of her own art have accumulated in the closet. In January of 2015 a close friend bullied her into taking her work out. Since then, she has shown in over 150 exhibitions that include solo, group, local and National venues. Her work continues to win top awards, including Best in Show in many of them. She is also a National Artist/Educator of the year and was recently published on the cover of Artist Magazine. She most recently earned an award of merit at the Heckscher Museum's Long Island Biennial, on view through January 2023. View her artwork at https://www.margaretminardiartist.com/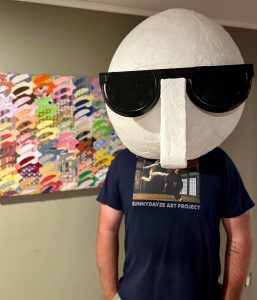 Chris O'Donnell was born and raised in Levittown, NY. After studying film production through Adelphi University's communications program, he went on to earn a Master's Degree in Advertising from Boston University before moving to Los Angeles.  There he worked as a television commercial producer for a large ad agency and small production company before returning home to New York in 1999. Chris currently resides in Melville with his family and continues his 18-year career as a Middle School Life Skills teacher on Long Island.
Chris creates artwork under the pseudonym SunnyDayze. All his work is based around one single element – a simple outline of a round head with black sunglasses on (which happens to look remarkably like him).  The original SunnyDayze logo was developed while he was living in Venice Beach, CA, where in 1995 he launched a feel-good guerilla marketing campaign aimed at the local community and distributed hundreds of free stickers of "the head" through the local skate and surf shops, which quickly found their way up and down the coast.
In 2020, Chris revived the campaign and launched the SunnyDayze Art Project – an online art exhibit that features one new piece of creative multi-media work each day for 1,000 days. Each piece in the collection contains the SunnyDayze logo in some way, shape or form. Through this creativity challenge, Chris has experimented with various mediums including paint, paper, media, food, wood, textiles and many more, creating a body of work that is fun, colorful, and extremely unique. When finished with the 1,000-day challenge his goal is to display the work in a traveling art exhibit.
Chris hopes to use this incredible opportunity to learn about and experiment with different art forms, continuing to create new pieces to add to the SunnyDayze collection. View his artwork at https://sunnydayzeartproject.com/
Click to read blog posts by Chris/Sunnydayze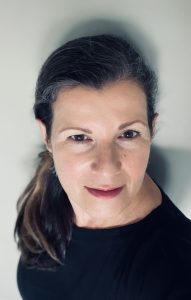 Despina Myriokefalitaki-Zografos is a visual artist born and raised on the Island of Crete, Greece. She works in a variety of mediums including hand cut paper, acrylic painting, cyanotype, photography and video.  As long as she can remember art was a vital part of her daily life. Although her choice after high school was to study French Language and Literature at the National and Kapodistrian University of Athens she was at the same time attending the Art & Design College "Vacalo" with a focus in graphic design. Later, she earned her BFA in Painting from Athens School of Fine Arts. Despina also earned her MSc in Art Therapy from Queen Margaret University in Edinburg, Scotland, U.K.  Her artwork has been included in several juried, local, national and international exhibits and has received awards such as: Honorable Mention at the "60th Long Island Artists Exhibition" and 2nd place at "Art of Layering" exhibit, organized by the National Association of Women Artist (NAWA). Most recently Despina was included at Heckscher Museum's 2022 Emerging Artists Instagram Takeover series. She was featured in a Solo Virtual Show at https://artmumsunited.com/exhibits/ and exhibited her work at the Virtual Edition of The Other Art Fair, presented by Saatchi Art, in May-June 2022, and at the Art on Paper Fair in NYC in September 2022. She is currently exhibiting in The Heckscher Museum of Art's 2022 Long Island Biennial.  Her recent art work consists of works on paper, combining two layers of hand cut paper or by using one layer of hand cut paper combined with a second layer of acrylic painting on paper.  View her artwork at https://www.despinazografos.com/
Click to read blog posts by Despina
The Art League of Long Island is a not-for-profit visual arts organization located at 107 East Deer Park Road in Dix Hills. Established in 1955, the Art League offers gallery exhibits in its Jeanie Tengelsen and Strolling Galleries, art classes and workshops, and events throughout the year. For more information about the Art League visit www.artleagueli.org .