Pictured above:  "Infrastructure" by Catherine Hyman; "Into the Garden" by Riva Gelman"; "Untitled" by Carole Jay; "Enjoy Art" by Jamie Sandler; Cruising the Mediterranean" by Carol Salerno; "J's Or-Anges" by Karen Gross
Class Description:
Jumpstart your artistic practice by adding techniques to your creative toolbelt! Experiment with collage, paint, and transfer techniques to further expand your visual vocabulary. Achieve new insights into creating compositions and developing your unique artistic statement. Learn how to use collage-appropriate imagery, gel mediums, glues, as well as how to incorporate painting, drawing, image transfers, and mixed media. Build upon your work and your process in the context of both Contemporary Art and Art History, through discussion of artists and art books with instructor and classmates. Please contact the instructor to discuss which materials would be most appropriate for your practice.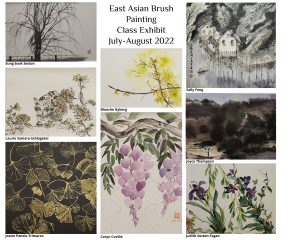 Pictured above columns from top to bottom starting at left column:
"Winter Willow" by Sung Sook Setton; "Hiding Spot" by Laurie Samara Schlageter"; "Ginko" by Joann Ponzio-Trimarco"; "Yellow Bells" by Blanche Gyberg; "Wisteria" by Caryn Coville; "Hometown" by Sally Feng; "The Mountain" by Joyce Thompson; "Soft Spring Wind" by Judith Sutton-Fagan
Next Virtual session begins October 6! Click to register for the next session today..
Class Description:
VIRTUAL CLASS HOSTED ON ZOOM: Participants will explore East Asian conceptions of line, brush stroke, and composition with a focus on the traditional subjects of the Four Gracious Plants (plum, orchid, chrysanthemum, and bamboo) and landscapes. East Asian water-ink painting is not merely a visual art; it is also a literary and philosophical one. The regular practice of water-ink painting promotes a better understanding of the beauty within nature and the cultivation of an inner sense of harmony.
Instructor Sungsook Setton employs a flexible and creative approach to her virtual Brush Painting class, integrating group instruction and individual tutoring:
• Instruction and discussion.
• Communication with instructor for commentary on individual practice.
• The class will use a combination of communication tools for individual guidance