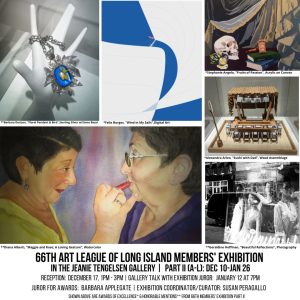 Part Two of the Art League of Long Island's Annual Members' Exhibition features 77 works of art created by our many talented members.   Artists from all walks of life, those just beginning their journey into the visual arts and established exhibiting artists, have put their best foot forward exhibiting their artwork in mediums such as painting, drawing, collage, photography, printmaking, ceramics, sculpture, jewelry, fiber arts, glass art, wood, graphic art, and more.
Entry into the exhibit is open to all Art League members and not pre-screened by a juror.  Awards of excellence and honorable mentions of the art on display will be selected by guest juror Barbara Applegate who served as Director of the Hillwood Art Museum for more than 15 years.
Due to the large number of works, the exhibit is shown alphabetically in two parts:  Part One (M-Z) and Part Two (A-L). Part Two of Members' Exhibition Winter 2022-23 exhibits December 10, 2022 through January 26, 2023.  The artists' receptions and awards presentations takes place Saturday, December 17, 1:00pm-3:00pm.
Please note:  The Art League will be closed to the public for Holiday Break from December 24, 2022 to January 9, 2023.
See List of Participating Artists
Gallery Talk with Exhibition Juror Barbara Applegate:  Thursday, January 12, at 7:00pm
Congratulations to the Award Winners of Part II:
AWARDS OF EXCELLENCE
2-Dimensional Award of Excellence
Stephanie Angelo
Fruits of Passion
Acrylic Paint
3-Dimensional Award of Excellence
Alexandra Arleo
Sushi with Dad
Wood assemblage
Photography & Digital Media Award of Excellence
Felix Burgos
Wind in My Sails
Digital Art
HONORABLE MENTIONS
 2-Dimensional Honorable Mention
Diana Alberti
Maggie & Rose; A Loving Gesture
Watercolor
3-Dimensional Honorable Mention
Barbara Derison
Floral Pendant and Bird
Sterling silver pendant with stone bezel
 Photography & Digital Media Honorable Mention
Geraldine Hoffman
Beautiful Reflections
Digital Photograph