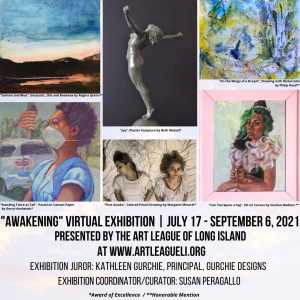 The Art League of Long Island's exhibition "Awakening", is an exploration of the world of the past 16 months as seen through the eyes of artists.  The exhibit opens on July 17 in a virtual gallery format and concludes on September 6, 2021. This is a juried exhibition where artists were challenged to submit their best works representing their expressions of our world as it acclimates to a new post-pandemic normal, awakening as though from a long slumber.
Of the 221 works submitted from across the United States, exhibition juror Kathleen Gurchie selected 59 works to show in the virtual gallery.  Of those 59 the following six were singled out for awards:  Awards of Excellence:  Gerry Hirschstein, "Standing Twice as Tall", Pastel on Canson paper; Margaret Minardi, "First Awake", Colored Pencil; Beth Wessel, "Joy", Plaster Sculpture. Honorable Mentions: Sooltan Madsen, "Can You Spare a Fag", Oil on Canvas; Regina Quinn, "Salmon and Blue" Encaustic, Oils and Beeswax; Phillip Read, "On the Wings of a Dream", Drawing with Watercolor.
About the exhibition juror:   The Art League is honored to have Kathleen Gurchie serve as juror for the Awakening exhibition. She is a member of the Art League of Long Island's Board of Directors.  Kathleen Gurchie's eponymous design company specializes in designing interiors and painting interior wall murals. As an artist, decorative painter, and sculptor, she works on decorators' teams to achieve anything from new finishes to repairing the old. After earning her BFA from Boston University Kathleen worked for industrial designer Eva Zeisel and furniture designer Leonard Eisen. When not designing she paints and sculpts with mixed media paint skins.