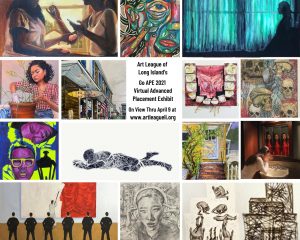 The Art League of Long Island's 14th annual "Go APE" Advanced Placement Student Exhibition features 2-D and 3-D works by 124 AP and IB Art Students from 37 Long Island High Schools.  This is an opportunity for what may be the first of many times these promising young art students will show their artwork in a professional gallery setting, albeit virtual for 2021.
Click here to view the Exhibition Catalog.
Congratulations to the following award winners, selected by Andrea M. Manning, Art League of Long Island Art Education Program Manager. Many thanks to Exhibition Coordinator/Curator Susan Peragallo for her hard work and dedication in making this exhibit a success!
Awards of Excellence
Kristine Zhou, Syosset High School, "Caged", Colored Pencil and White Tape on White Paper
Keren Dial, "Valley Stream South High School, "Cultivating the Mustard", Colored Pencil
Jordan Brand, "Baldwin High School", "Illusion is Illumination", Acrylic on Watercolor Paper
Sarah Hauk, Sayville High School, "White Wash", Acrylic Painting
Emma Romano, Oceanside High School, "Cultural Cleanse", Photography
Kathryn Yi, Jericho High School, "Connection", Pencil Drawing
Aleena Abraham, Hicksville High School, "Tenderness, Oil on Canvas
Honorable Mentions
Angela Jang, Syosset High School, "Dental Repair", Colored Pencil, Foam Core and Rubber Bands
Kayla Timpanaro, Earl L. Vandermeulen High School, "Things We Left Behind", Acrylic and Ink
Ava Fama, Plainedge High School, "The Curtains", Acrylic on Canvas
Teddy Angelopoulos, Long Beach High School, "Skulls", Mixed Media
Ethan Koenig, Northport High School, "Emptied", 3D Computer Modeling
Alyssa Paino, H. Frank Carey High School, "Too Much Pressure", Oil Pastel
Eleanor Dexter, Mount Sinai High School, "Summer's Sanctuary", Watercolor and Fine Liners