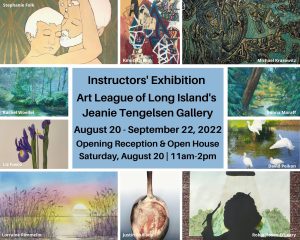 The Art League of Long Island boasts an impressive roster of art instructors who not only teach but also "do ".  Many of the Art League's instructors are award-winning artists themselves whether on the local, national, or international stage. Their work is on exhibit in the Jeanie Tengelsen Gallery August 20 to September 22. An open house and public artists' reception take place August 20 from 11am to 2pm.  The open house and reception are free and open to the general public.
The open house offers visitors a first-hand look of the inner-workings in the Art League's specialized art studios through live demonstrations by Art League instructors.  Demonstrations include watercolor painting, oil painting, pottery, jewelry making, photography and more.  Meet the instructors and learn about their classes and approach to teaching.
Pictured are works by the exhibiting Instructors: "Moment 2", mixed media by Stephanie Folk; "The Elegant Twist of a Very Sharp Knife", mixed media by Kevin Larkin; "Celestial Messenger", linocut print by Michael Krasowitz; "Just a Peek", pastel by Donna Moraff; "Landing in Palm Beach Shortly", oil painting by David Peikon; "Into the Light", mixed media by Robin Rosen-O'Leary; "Head of Gold", pit fired ceramic with iron oxide by Justin Mullady; "Slowly Rising", watercolor by Lorraine Rimmelin; "Japanese Iris", watercolor by Liz Fusco; "Hudson Valley", oil painting by Rachel Woelfel.
Take a Video Tour of the Exhibition, Filmed by Michael Corrao!