Through a competitive application process, four Long Island artists have been selected to become the fourth group of Resident Artist Members at the Art League of Long Island. Established in 2018, the Resident Artist Membership program is designed to provide a select group of Long Island based artists with skill-building and community-based opportunities to further develop their careers in the visual arts.
The program, spearheaded by Ersule Metelus, the Art League of Long Island's Education and Programs Manager, offers resident artists over the course of one year 150 hours of free class time, open studio time, an exhibition opportunity, collaborative projects and teaching opportunities. The resident artists will be hosting their own carefully designed workshops and cultural programs during their residency. Through these activities and other collaborative projects, these artists will engage with and become leaders in the community of one of the region's leading visual arts centers. The membership runs September 1, 2023 through August 31, 2024.
The Art League thanks Walmart of Commack for sponsoring Resident Artist Member projects in the coming year!
About the Resident Artist Members:
Darlene Blaurock: My artwork is Mixed Media and paint, neo=pastels and found objects. While I use a variety of materials and processes in each project my methodology is consistent. Each project often consists of multiple works, often in a range of different media, grouped around specific themes and meanings. The paintings take a personal view of social and cultural issues.  The artwork is often referencing biblical themes, history and pop culture. My work explores the varying relationships between popular culture and fine art. Using collage, acrylic and watercolor paint.
What I hope to accomplish during my Artists Residence is to become a well-rounded artist. To become more involved with other artist's and our surrounding communities. I would love the opportunity to share my technique with people who enjoy learning new methods to create art with. Also, I would like to learn from fellow Artists their techniques. Hopefully I can incorporate that into my Mixed Media Art. 
"ENERGY"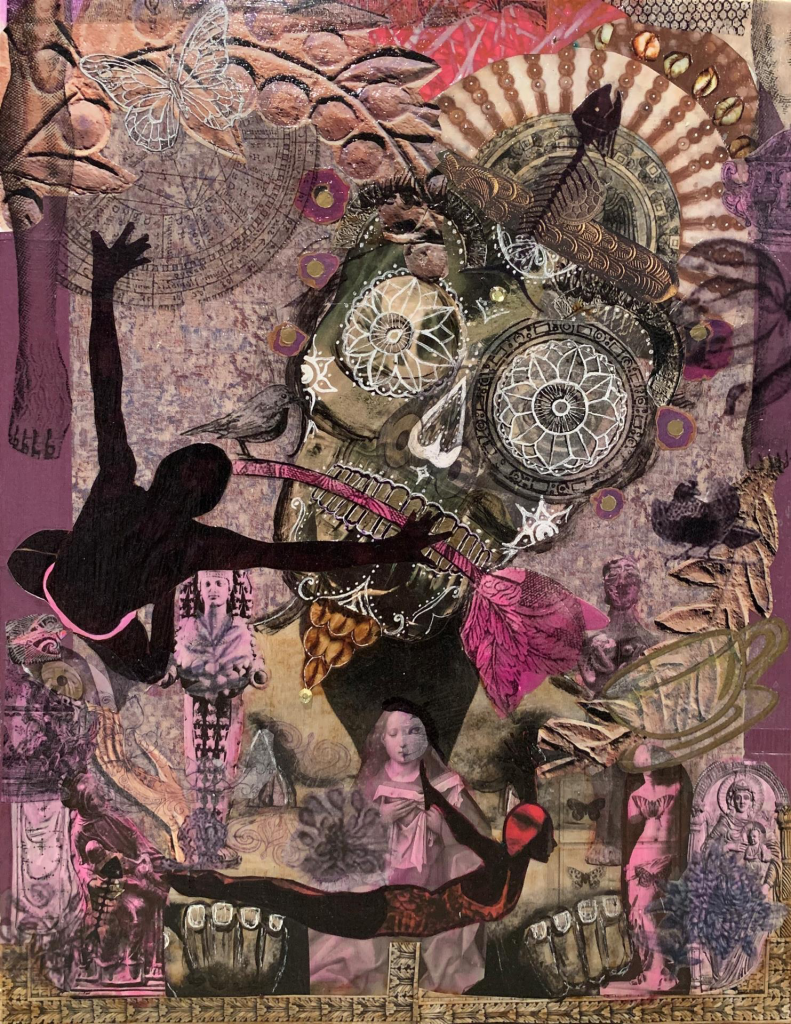 Linda Gottlieb: My art journey has been long and varied; drawing with my mother at the age of 5, my first award in the second grade for a fire prevention poster, to majoring in Fine Arts in college, where I had my first gallery showing of my abstract color field paintings; I have been a designer and an art historian. Always a painter at heart, I applied my viewpoints and skills to various creative careers in fashion, textiles, art appraisal and education. Being involved in workshops at the Art League has afforded me the re-ignition of my passion and dedication to my own artistic development. I yearn to further explore my large-scale figurative works in multiple mediums. I have developed a method of turning condensed charcoal into paint and am experimenting with adding oils and raw pigment to a uniquely surfaced ground. I hope to learn to sculpt and paint from the generous and accomplished instructors at the League. A residency would provide the opportunity, locale and community I can thrive in artistically. Having begun my life drawing education at the Art Students League at the age of 16, I feel I can offer a unique workshop that addresses some of the intimidating obstacles many artists experience when working from the live model; that of foreshortening and proportion. My experience teaching all ages of children, college students and adults combined with my own (ever developing) proficiency would be a positive contribution to the development of aspiring artists in a workshop setting. My dedication and involvement with the Art League, as demonstrated by my volunteering to monitor figure drawing workshops, willingness to step in and teach children's classes when asked, would only be enhanced by a residency.
"Prometheus"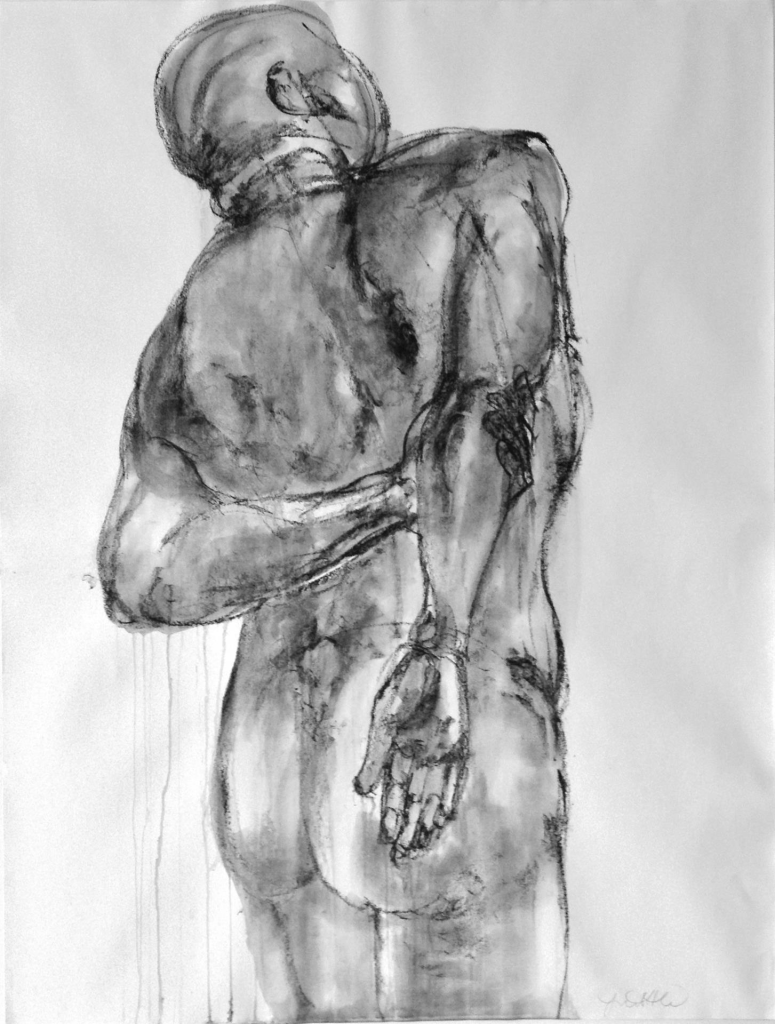 Diana O'Brien: I am focused on children's book illustration and mural making. With children's books, I work with authors in bringing the book's vision to life. I use traditional hand drawing methods, combined with technology – painting digital color and formatting the layout and design in InDesign – to create the final book. With my own work in this area, I create and build the fictitious world I imagine with my pencil. After it's established on paper, I move it to the ipad and Procreate/Photoshop. My objective is to use page composition, texture, lines, and color to create the narrative flow that my story requires. It is rewarding to create worlds that don't exist, placing words and images in a way that brings the world to life.
Murals are important to me as well. I love the large scale – sweeping a paintbrush across a giant wall is an incredible feeling. I am privileged to have painted murals in national hospitals, private residences, and elementary schools. My 2021 project at a residence in Southold is shortlisted for the World Illustration Awards 2023, in the Site Specific category. Click here to see this list.
Although we live in an incredible time for digital design, hand drawing is a crucial skill for any artist. It is my belief that the tools we have access to as artists are meant solely to communicate the message the artist wishes to convey and should not be used to make art for the sake of the tool itself.
"Janet at the Library"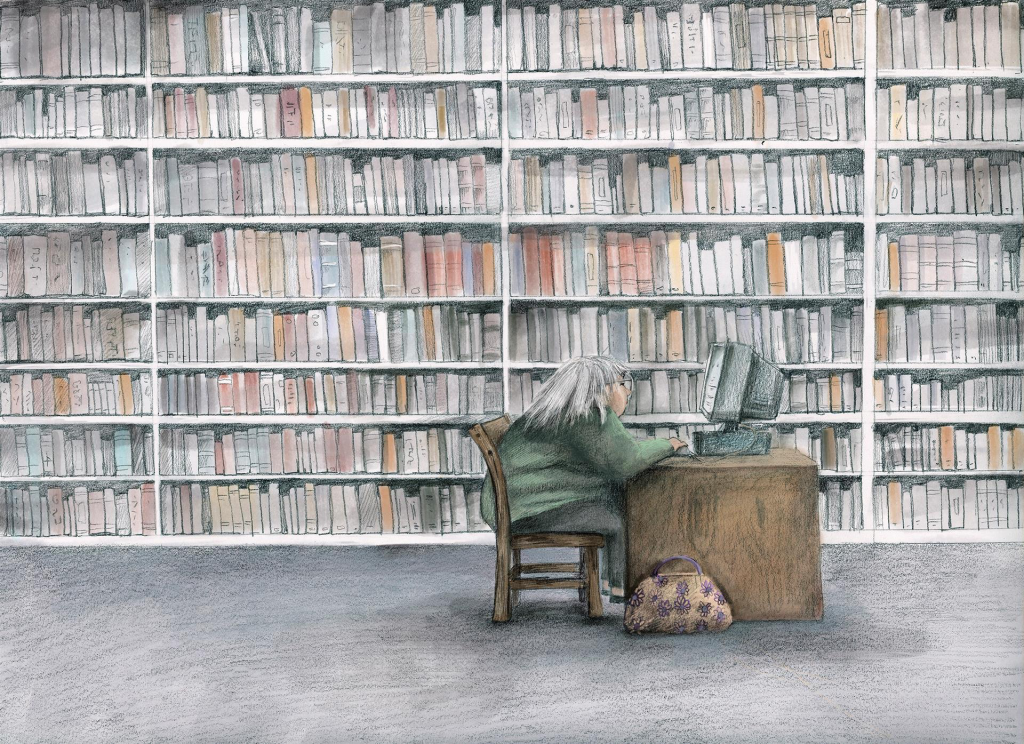 Michael Sapone: My paintings explore perceptual dreamlike scenes through layering and chance. I believe that certain memories shape us and guide us towards our true paths. Obscure brushstrokes and random mistakes are what drive my excitement and anticipation to paint. It's a dance between myself and the artwork where we constantly exchange control. More layers are preferred, and accidents add character. Depending on the needs of the piece, I may employ collage, paint, charcoal, pencil, image transfers, or other media. If viewers keep discovering new elements within the artwork, I consider it a success.
"Green Panels"