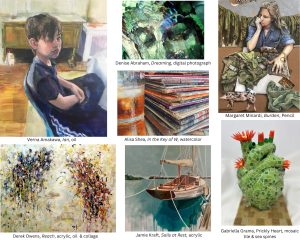 The Art League of Long Island's 61st Long Island Artists Exhibition, a biennial event, features 2-D and 3-D works created by artists from Suffolk, Nassau, Brooklyn, and Queens. The exhibit will be on view in the Art League's spacious Jeanie Tengelsen Gallery March 4 through April 7. The reception takes place Saturday, March 11, from 1:00pm to 3:00pm. A Gallery Talk with the exhibition juror, Neill Slaughter, takes place on Thursday, March 30, from 7:00pm to 8:00pm. The gallery, reception, and gallery talk are open to the public, and admission is free.
Exhibition juror Neill Slaughter, has selected 61 works out of the 675 submissions entered by 208 artists. The works selected for display in the gallery encompass a variety of artistic mediums and styles of art created by established and emerging artists.
About the Juror: Artist Neill Slaughter graduated with a BFA degree in 1975 from the University of Georgia and received his MFA in 1978 from Indiana University in Bloomington. From 1978 until his retirement four decades later, Professor Slaughter taught fine arts courses and art history at the university level (both in the US and England) as well as exhibiting his drawings and paintings nationally and internationally. In 1993 Professor Slaughter moved to Southampton NY from Los Angeles to begin teaching for Long Island University where he was chairperson of the Art Department twice during his quarter century tenure with LIU. Slaughter, now Professor Emeritus, resides in Southampton NY. During his forty years of teaching, Professor Slaughter spent a considerable amount of time traveling throughout the world to teach, conduct research and paint. His extensive travels have influenced what he paints, which often reflect the social conditions of his surroundings. Among his awards and honors, Professor Slaughter has received a Ford Foundation Fellowship in 1977-78, a Scottish Arts Council Grant in 1980, an LMU Research Grant to Africa in 1988 and a Fulbright Fellowship to India in 1992. In 2003 Professor Slaughter was the awarded the David Newton Award for Excellence in Teaching granted by Long Island University. In 2008 he mounted a thirty-year retrospective, which included a full color catalog funded by Long Island University. In 2017 he was granted Professor Emeritus status by Long Island University. He has presented live art history lectures since his retirement including "A Triumphant Triad" at the Parrish Art Museum in August 2022 comparing and contrasting three great Gilded Age artists, Sargent, Sorolla, and Zorn. Neill Slaughter has had more than thirty solo exhibits and participated in more than ninety national and international group exhibitions. His artwork is in numerous public and private collections throughout the world.
Pictured are works by exhibiting artists as selected by Exhibition Juror Neill Slaughter.