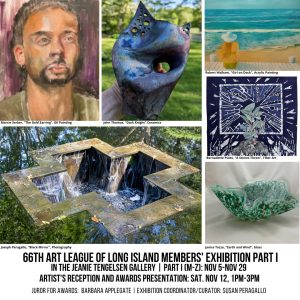 Part One of the Art League of Long Island's Annual Members' Exhibition features 86 works of art created by our many talented members.   Artists from all walks of life, those just beginning their journey into the visual arts and established exhibiting artists, have put their best foot forward exhibiting their artwork in mediums such as painting, drawing, collage, photography, printmaking, ceramics, sculpture, jewelry, fiber arts, glass art, wood, graphic art, and more.
Entry into the exhibit is open to all Art League members and not pre-screened by a juror.  Awards of excellence and honorable mentions of the art on display will be selected by guest juror Barbara Applegate who served as Director of the Hillwood Art Museum for more than 15 years.
Due to the large number of works, the exhibit is shown alphabetically in two parts:  Part One (M-Z) and Part Two (A-L).  Part One of Members' Exhibition Winter 2022-23 exhibits November 5 through November 29.  The artists' receptions and awards presentation for Part I takes place Saturday, November 12, 1:00pm-3:00pm.
Congratulations to the following artists selected for Awards:
AWARDS OF EXCELLENCE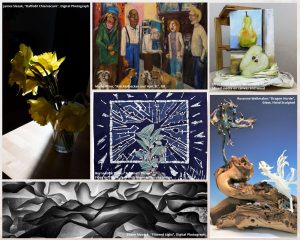 2-Dimensional Award of Excellence
Bernadette Puleo
A Stone's Throw
Fiber Art: Batik dyed with Nigerian Yoruba Indigo
3-Dimensional Award of Excellence
Rosanne Wellmaker
Dragon Hoard
Glass, Hand sculpted
Photography Award of Excellence
James Slezak
Daffodil Chiaroscuro
Digital Photograph
HONORABLE MENTIONS
2-Dimensional Honorable Mention
Marie Winn
Knickerbocker and Hart St.
Oil
3-Dimensional Honorable Mention
Efrat Baler-Moses
Multiverse Pear
Mixed media on canvas and wood
Photography & Digital Media Honorable Mention
Eileen Novack
Filtered Light
Digital Photograph
The Jeanie Tengelsen Gallery is open to the public free of charge Tuesdays & Thursdays 10am to 8pm, Fridays and Saturdays 10am to 3pm, and is located at 107 East Deer Park Road in Dix Hills.